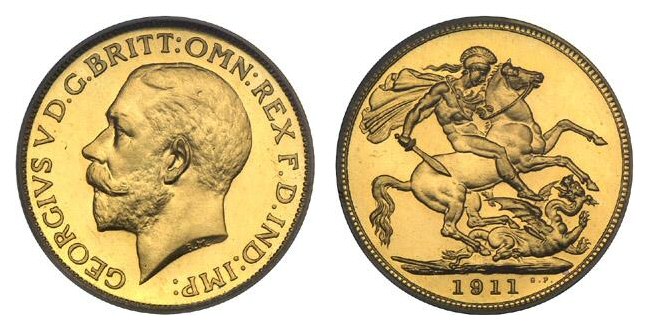 Sovereign is a British gold coin and in  his historical form was a pound.
The name of the currency comes from the King's portrait that appears on one side of the coin. The issuing of a Sovereign gold coin was in 1489 and by Henry VII. His weight at that time was 15.6 grams and with purity of 23 carat 958. In 1816 the British Parliament declared the reform of monetary abolishing the Guinea Chlichc laws and currency sovereign redefined the new gold weight as 7.322 grams of pure gold , the value of the new gold coin was 20 shillings. Until World War Sovereign gold coin was a currency for the dealer in the UK, but because of the suspension of the monetary base in the British Empire and because of the war after which came the Great Depression the gold coin reduced quantitative Currency Sovereign class and went to be done using paper money and coins of low value Sterling Bank of England. The UK  continues to issue coins that are legal , but because of its gold value which is mych higher than its currency , the sovereign gold coin is primarily used for trading gold or as a collectible item. Sovereign coin contains 0.2354 ounces Troy of gold, with purity of 22 karat (916) , and its weight 7.988 grams. Places that issued the gold coin sovereign were: Sydney, London, Perth, Melbourne and also a former Pretoria and Bombay. Coins with values ​​of half sovereign, two and five sovereign were rarely issued.
The word sovereign mean – Lord, governor, king, leader, etc.
Sovereign currency accompanied many English monarchs, including – Henry VII, Henry VIII, Queen Mary, Edward VI, James, Queen Elizabeth, George III – Sovereign gold coin is also known as: Elizabeth coin, George coin, Edward coin. In early nineteenth century, the hallmark of the Sovereign currency is the embedding of the figure of St George on a horseback with a sword and a dragon on one side of the coin, the other end was embedded with a portrait of an english king. Gold coins like Sovereign have  connection in Israel for several reasons whi are -during the two preceding centuries Jews brought to Israel Sovereign gold coins and then the currencies traded were Turkish poundsand others like  francs, rubles, Russians, soups Germans and sovereigns. Gold coins like the sovereign have great importance to arabs in Israel because they give the gold sovereign coins as dowry for the bride and in time she will receive money for them and buy a private property.